Department of European Studies
The Department of European Studies at San Diego State University is one of the few integrated, interdisciplinary European Studies departments in the United States. It takes a comprehensive and transnational approach to the study of Western Europe, Central and Eastern Europe, Russia, the Mediterranean, and Europe's diasporic and postcolonial communities around the world.
The department offers a number of distinct degree programs, which in addition to the European Studies major include specialized B.A. degrees in French, German, German Studies, Russian, and Russian and Central European Studies. The department also offers minors in European Studies, French, German, Italian, Russian, and the Master's degree in French.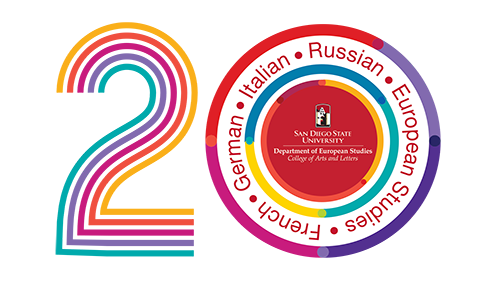 Statement of Solidarity
with the people of Ukraine
The Department of European Studies strongly condemns Russia's unlawful and unprovoked invasion of the sovereign nation of Ukraine. We stand in solidarity with the people of Ukraine for whom this war will take an enormous toll and join those around the world, including in Russia and Belarus, who are urging for an end to this war of aggression.
with Asian Americans and Pacific Islanders
The Department of European Studies stands in solidarity with Asian American and Pacific Islander communities. We stand against racist misogyny, gendered racism, and hate. We encourage everyone to Sign the Pledge.
with Black Lives Matter and Against Anti-Blackness
SDSU's College of Arts and Letters stands in solidarity with our Black communities. We denounce racism in any form and violence against Black people, and we stand firm in our belief that Black lives matter. We encourage everyone to Sign the Pledge.
As a community of university faculty and staff, it is our duty to actively support and advocate for solutions to systemic racism across our nation, the world, and our campus. Read the full statement.
Outstanding Graduating Senior 2023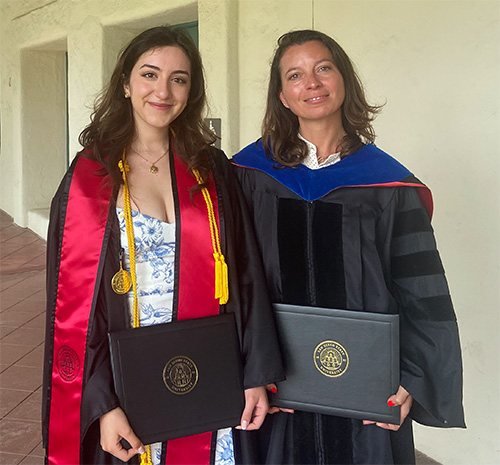 Congratulations to this year's European Studies Outstanding Graduating Senior, Sama Kenda Aziz, and Most Influential Faculty, Dr. Felicitas Jaima!
"My time spent studying German at SDSU was incredibly insightful and helped me refine my language and cultural skills even more than the time I lived in Germany. Some of the most interesting classes I took during my studies were the German ones, and they've helped me develop a strong understanding of what it means to really become fluent in a foreign language. This Fall I will be getting my master's degree in economics from Peking University in China, with plans to work on research and continue on the international studies track."
-Sama Aziz
Students Participate in Foreign Affairs Competition in Washington, D.C.
Students from the Department of European Studies were among 30 collegiate teams from across the U.S. that participated in the 2023 Schuman Challenge on March 30-31. The annual competition invites teams of three-four undergraduate students to respond to a topic impacting transatlantic relations and present before a panel of judges.
The SDSU team featured students Ilias Benbatoul, Marek Fialkiewicz, and Hadil Salih and faculty mentors Kristin Rebien and Kylie Sago. The students entered the competition with a proposal to establish an EU-U.S. Committee on Indigenous Land Stewardship. The committee would amplify the voices of Indigenous peoples in Northern Europe and the U.S. by including their expertise in biodiversity protection. Their proposal grew from a class project for EUROP 301, Contemporary Europe.
The team presented their proposal to three judges, including a high-ranking official of the EU Delegation to the U.S., a member of the European Parliament, and a diplomat at the U.S. embassy in Finland. The judges praised their presentation for filling a gap in current transatlantic cooperation, foregrounding fundamental human needs, and clarity of their production.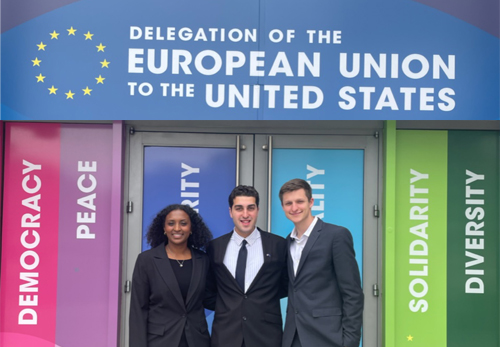 Ilias Benbatoul, Hadil Salih, and Marek Fialkiewicz outside the competition.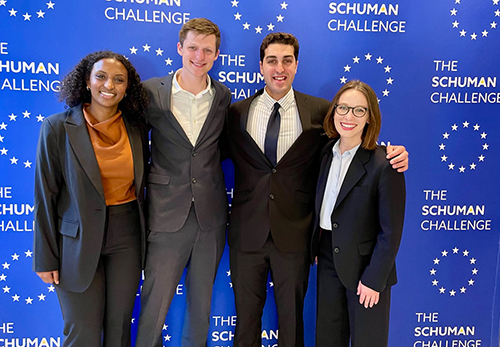 Ilias Benbatoul, Marek Fialkiewicz, Hadil Salih, and faculty mentor, Kylie Sago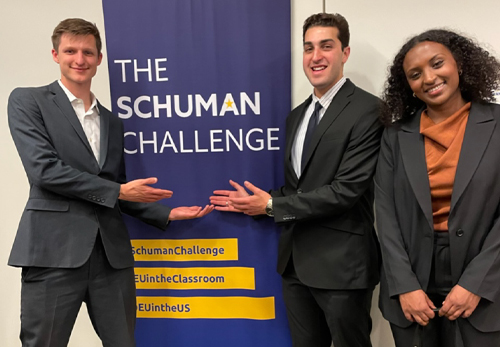 Marek Fialkiewicz, Hadil Salih, and Ilias Benbatoul