Why Study French?
The Program in French and Francophone Studies at San Diego State University offers a wide variety of opportunities to study the language and cultures of the global French community. The program offers a major (B.A. degree), minor, and a graduate degree (M.A. degree).
A student who majors in French learns to speak the language, to read literature and cultural materials in their original form, and to interact with members of an important worldwide cultural community. With more than 120 million speakers on five continents, French is one of the five official languages of the United Nations and is an official language in over 40 countries in Africa, Europe, and the Americas. The French major provides a global perspective and can help prepare students for careers in the arts, business, education, international business, public service, tourism, and translation.
Students generally choose to major in French in order to enrich their lives rather than to train for a specific career, but many employers recognize the value of a well-rounded liberal arts education that includes critical thinking and communication skills. The increasing involvement of the United States in international business has created new opportunities for people interested in international management. Employers look for knowledge of a foreign country's culture and language together with training in economics or business. A major in French combines effectively with a second major or minor in business, economics, political science, the humanities, or another language area study.
A significant number of French majors choose a career in teaching. With a secondary teaching credential, one can teach at the high school level or pursue more advanced study in preparation for a university career, either in French or in related subjects such as linguistics or comparative literature.
No matter what your academic, professional or personal interests, French is relevant, French is practical, and… #FrenchIsEverywhere! Read more
Le français, la francophonie, la culture -- voici le portail!
Give to French and Francophone Studies
Why Choose Our Program?
Jason Araújo is a fourth year Eugene V. Cota-Robles Fellow and PhD candidate in the Department of Comparative Literature at UCLA. He holds a BA in History from the University of San Diego (Summa Cum Laude, Phi Beta Kappa,) an MA in French and Francophone Studies from San Diego State University, as well as an MA in Comparative Literature from UCLA. His work focuses on the dynamic literary, historical, and cultural connections between hexagonal France and Latin America, particularly Argentina and Uruguay, over the course of the long-19th century. Even the concept of
América Latina/Amérique Latine
is itself a locution of the French Second Empire.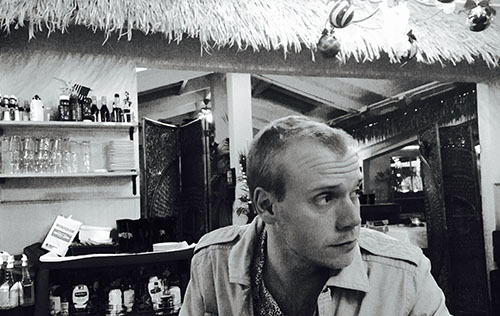 His time at SDSU proved invaluable not just in terms of excellent course offerings with strong faculty but also relevant teaching opportunities that emphasized contemporary pedagogical approaches to language acquisition. Another highlight of the program was Le Théâtre Français, a combined undergraduate/graduate student & faculty effort that resulted in a yearly production where camaraderie and creativity were emphasized. SDSU's dynamic French and Francophone Studies program continues to be a source of strength for the San Diego community at large. Jason is very thankful for these experiences and the continued guidance he receives from faculty and former colleagues.

Stay Connected