Our Mission
We strive to offer an innovative and interdisciplinary curriculum in Italian Studies attentive to language acquisition, critical thinking, transcultural literacy, diversity, equity and inclusion in the Italian experience. Our courses focus on a wide variety of areas of inquiry pertaining to Italy and its diasporas, from language to literature, film, music, popular culture, history, politics, transmedia storytelling and visual arts. We are committed to providing high-impact cultural activities and transformative pedagogical practices that enrich the educational experience of our students on campus, in our local transborder community, and abroad, and that prepare them for the professional path of their choosing.
Why Study Italian?
The study of Italian, like that of any language, reveals not just another means of communication, but another world and another culture. It offers an opportunity to compare practices and habits, to challenge, question or reinforce one's opinions and to appreciate and respect other views.
Italian is relevant for students specializing in arts and humanities, including literature, theatre, history, art history and music, as well as the social and political sciences, education, business and international relations.
Italian is spoken as much in Italy as around the world. Italians have migrated to all corners of the globe and Italian is the heritage language of many people in the US and abroad. Indeed, it is also spoken in Switzerland, parts of Africa, Latin America, Asia, Australia, the Balkans, and around the Mediterranean. Interestingly, it is the fourth language most spoken in US homes, according to the US Census Bureau, which makes its study in the US even more relevant and useful.
The study of Italian is an open journey: BUON VIAGGIO!
Lead with Italian - Innova con L'Italiano
Knowing Italian is a vital skill in countless career fields, given the relevance of Italian businesses to the global economy. Italy is a world leader in the culinary arts, interior design, fashion, graphic design, auto manufacturing, furniture design, machine tool manufacturing, robotics, electromechanical machinery, shipbuilding, space engineering, construction machinery, and transportation equipment. It is the world's largest wine producer and third-largest market for luxury goods. Learn more about Italian.
Study + Italian + Work
"Study + Italian + Work" is a series brought to you by the Consulate General of Italy in San Francisco and Fondazione Italia Los Angeles, co-sponsored by the American Association of Teachers of Italian (AATI) and the Italian Language Foundation (ILF). Its aim is to promote the importance of studying the Italian language and to show careers you have when you combine it with other majors or minors in your Higher education. View the complete series.
The Italian Studies minor opens the door to internationalizing any major. Combined with study abroad students find careers as international marketing representatives, travel agents, museum curators or arts administrators, international press corps or diplomatic corps, librarians, international legal or financial consultants, writers or researchers specializing in Europe. Italian is also very valuable for careers in all aspects of business, computer programming, web design, law, public relations, journalism, telecommunications, public and environmental affairs, government agencies.

To further explore career options in this field, visit the Career Services website.
Stay Connected
Alumni Updates
Catch up with alumni Brandon Bisby and Mariana Barrios who are both currently graduate students in Italian at California State University Long Beach.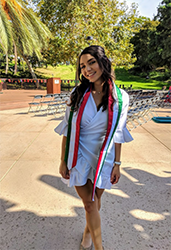 Student Profile: Mariana Barrios
April 2020