Imagine Europe Podcasts
Student Spotlight Diva Zeckua: Promoting languages and opening doors to new world
Join French lecturer Susanne Forrayi in conversation with recent graduate Diva Zeckua. They discuss Diva's unique student success story of being a first-generation student, her goals in the science of optometry, her passion for the Italian language and leadership development, and her time as Circolo Italiano club president. She is a proud recipient of SDSU's Quest for the Best, an award recognizing individual excellence in academics, campus involvement, and community service. Join us as we explore our students' possibilities, challenges, and experiences as Diva explains how she will break down barriers in communication in the healthcare industry and beyond.
Professor Veronica Shapovalov - migrations, memoirs, and folklore
Join Professor Clarissa Clo in a conversation with Professor Veronica Shapovalov. They discuss and share stories from Veronica's life in the former Soviet Union, Jewish migration to the United States, the dismantling of the USSR, women in prison, and the people and places in Veronica's personal folklore. She is a legend! Don't miss this episode.


Holly Ransom-Thomson and French Theatre SDSU
Clarissa and Holly discuss the 23+ years of French Theatre at SDSU, Holly's history in the department, high-impact teaching practices, multi-lingual mash-ups, and much more.


Rosamaria Ruggeri and the Manifesto of Ventotene
Join Department Chair, Professor Clarissa Clo and Italian Lecturer Rosamaria Ruggeri as they discuss the importance of the role of women in the establishment of the Manifesto of Ventotene from Rosamaria's personal and exceptional experiences growing up in Bergamo, Italy during the '60s and early '70s.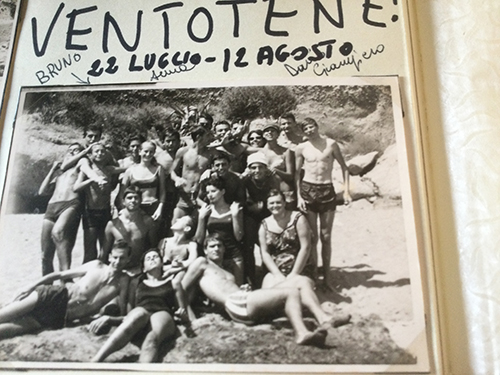 Cultural figures mentioned
Claudio Abbado (1933-2014) music director of the La Scala opera house in Milan.


Maurizio Pollini (1942) pianist. He performed with Claudio Abbado at La Scala in a cycle of concerts for students and workers, in an attempt to build a new public as they believed that art should be for everybody.


Giorgio Strehler (1921-1997) opera and theater director. He started the Piccolo Teatro di Milano with Paolo Grassi. He directed several plays by Bertolt Brecht, Shakespeare, Carlo Goldoni and Luigi Pirandello.


Dario Fo (1926-2016) actor, playwright, comedian, singer, theatre director, stage designer, songwriter, painter, political campaigner for the Italian left wing and the recipient of the 1997 Nobel Prize in Literature. The Swedish Academy praised Fo as a writer "who emulates the jesters of the Middle Ages in scourging authority and upholding the dignity of the downtrodden."


Franca Rame (1926-2013),

was an

Italian

theatre actress, playwright and political activist. She was married to

Nobel laureate

playwright

Dario Fo.

Fo dedicated his Nobel Prize to her.
Figures mentioned in relation to the Manifesto of Ventotene
Altiero Spinelli (1907–1986) was an Italian communist politician, political theorist and European federalist, referred to as one of the founding fathers of the European Union. He drafted the Ventotene Manifesto while he was imprisoned by the fascist regime on the island of Ventotene.


Ernesto Rossi (1897–1967) was an Italian politician, journalist and anti-fascist activist. He was co-author of the Ventotene Manifesto.


Ada Rossi (1899-1993) was a math teacher and anti-fascist activist who participated in the foundation of the European federalist movement. She married Ernesto Rossi after they met in Bergamo. Along with Ursula Hirschmann, she managed to bring the text of the manifesto to the mainland, and took part in its dissemination.


Eugenio Colorni (1909-1944) was an Italian philosopher and anti-fascist activist and one of the promoters of the Manifesto of Ventotene.


Ursula Hirschmann (1913-1991) was a German Jewish anti-fascist activist and an advocate of European federalism. She married Eugenio Colorni, whom she had met in Paris, and later, after he was assassinated by the fascists, Altiero Spinelli became her second husband. Along with Ada Rossi, she managed to bring the text of the manifesto to the mainland, and took part in its dissemination.
20 years of European Studies with Professor Clarissa Clo and Professor Emerita Edith Benkov
Chair of the Department of European Studies at SDSU, Professor Clarissa Clo speaks with Professor Emerita Edith Benkov on the past 20 years of department history; Professor Benkov's stories and individual works in the department and in the university. We will also get a special invitation to visit Edee's home in the south of France.