Silvia Kading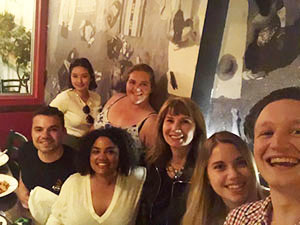 Office: SH 226D | Email: [email protected]
Ciao a tutti! At SDSU I teach Elementary Italian I and II as well as Reading and Speaking classes. Currently I have been instrumental in the development of online and blended classes aimed at reaching new students interested in this beautiful language and learn about a country rich in culture and history.
Teaching has been my profession and passion since my first year of university, both in Europe and the United States. Teaching Italian is what gives me the most satisfaction because of the direct contact with my students and the amazing progress I see in them every semester.
My teaching approach is learner centered where students are actively involved in construction of knowledge and understanding, where students learn through social interaction either in face-to-face or online classes, in a supportive and encouraging learning environment.
I permanently moved to San Diego in 2005. I started teaching Elementary and Intermediate Italian classes at local institutions such as Southwestern College and the Italian Cultural Center. In 2008 I joined for the first time SDSU as lecturer. I also taught Italian at MiraCosta College and Mesa College.
I am originally from a mid-sized city near Gorizia in the North-Eastern Italian region of Friuli-Venezia Giulia. I attended the Università degli Studi of Trieste and I received my MA with honors in Modern Foreign Languages and Literatures. My major was English and I wrote the thesis "The Knights: Ideals and Virtue between Reality and Fiction in the English Romances". My minor in Spanish, reflects my interest in the Spanish language and literature.
I then completed a one-year teacher training program in secondary school teaching from the same university with a final paper on material design in foreign language teaching.
I started my professional career teaching English and Spanish in public and private high-schools as well as Higher Education in Italy and for an number of years I also taught English at summer camps in England. My professional career includes also extensive translation and voice-over projects for the cruise industry.
I received my MA in Italian with honor from the Università degli Studi Ca' Foscari of Venice with a thesis dissertation on "Constructivism and Technologies: Constructivism and Technologies: Consequences and Implication on Language Learning". At the same university I also completed the Italian Second Language Certificate.