Kristin Rebien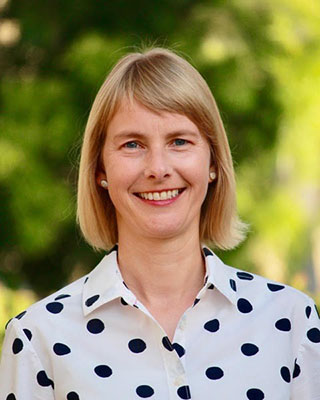 Office: SH 220B | Phone: (619) 594-5128 | Email: [email protected]
Dr. Rebien earned Master's degrees in German Studies and Political Science from the University of Leipzig in Germany and a PhD in German Studies from Stanford University. Her research interests include twentieth and twenty-first century German literature; literature and culture in European Studies; political writing; and GDR and Wende studies.
She has published articles on iconic postwar writers including Heinrich Böll, Paul Celan, and Johannes Bobrowski; literary institutions, such as Gruppe 47 and the Ingeborg Bachmann Preis; theories of reading; and conceptions of European unity in contemporary German literature. She is currently working on a book-length manuscript, Narratives of Unity: Europe in the German Literary Imagination since 1945, and an edited collection (with Maria Mayr and Michel Mallet) on Unrealized Futures in Post-Socialist Memory and Culture.
At SDSU, Dr. Rebien teaches courses in German and in European Studies. She also directs the German Program and serves as the German undergraduate advisor. Before coming to SDSU, she spent a year teaching in the German Department at Princeton University.
"Sarmatien als politsche Utopie im Zeitalter der Berliner Mauer" [The Political Utopia of Sarmatia in the Age of the Berlin Wall] Sarmatien – Germanica Slavica – Mitteleuropa. Vom Grenzland im Osten über Bobrowskis Utopie zur Ästhetik des Grenzraums / Sarmatia – Germania Slavica – Central Europe: From the Borderland in the East and Bobrowski's Utopia to a Border Aesthetics. Sabine Egger, Stefan Hajduk & Britta C. Jung, eds. Göttingen: Vandenhoeck & Ruprecht unipress (Deutschsprachige Gegenwartsliteratur und Medien), 2020. 103-118.
"Jenseits der Grenzen: Europa in der zeitgenössischen deutschen Literatur." Das Politische in der Literatur der Gegenwart [Politics in Contemporary Literature]. eds. Stefan Neuhaus, Immanuel Nover. Berlin: de Gruyter, 2019

"Whose Nation? Johannes Bobrowski's Case for Inclusive Communities and Basic Liberal Rights." German Studies Review 40.3 (2017)
"Cosmopolitan Perspectives: Globalization and Transnationalization in Contemporary German Literature." Transcultural Identities in Contemporary Literature. eds. Irene Gilsenan Nordin, Julie Hansen, Carmen Zamorano Llena. Amsterdam: Rodopi: 2013. 111-132.
"Literary Awards and the Practice of Aesthetic Judgment." Journal of Austrian Studies; 45:3-4 (2012).
"Kunstbetrachtungen: Paul Celan über den Surrealisten Edgar Jené." Der Betrachter ist im Text! Kunstrezeption in der deutschsprachigen Literatur nach 1945. ed. Sylwia Werner. Berlin: Trafo, 2012. 299-316.

"Gruppe 47: Literature, Politics, and the Political Economy of Postwar Publishing." German Life and Letters 62.4 (2009), 448-64.
"Dichten, Denken, Lesen: Theories of Reading in Paul Celan and Martin Heidegger." The Germanic Review, 84.1 (2009), 59-83.
"Dimensions of Engagement: Politics and Aesthetics in Heinrich Böll's Early Fiction." The German Quarterly 80.3 (2007), 350-67.