Study Abroad & Internships
Why Study Abroad?
Study abroad is a transformative experience for most students. It greatly improves language proficiency, enhances cultural competency, and enables students to establish trans-Atlantic relationships that lead to lasting friendships and sometimes become the seed for exciting global careers.
CSU sponsored or approved programs
CSU's International Program offers year-long programs and several SDSU departments offer semester abroad programs at outstanding German universities. Students earn regular SDSU resident credit on all SDSU- and CSU-sponsored programs.
The SDSU International Student Center provides information about these programs as well as other approved programs offering summer, semester and year-long programs in Germany, Austria and Switzerland. This center also handles applications, interviews and pre-departure orientations. For an overview of available programs and locations, select your preferred destination from the Aztec's Abroad website.
Outside organizations
The German Academic Exchange Service and Fulbright Student Programs offer study abroad opportunities for upper-division undergraduate students and graduating seniors. For more information on the Fulbright programs at SDSU (including opportunities to teach English in a German-speaking country after graduation), visit their site.
Many German, Austrian, and Swiss universities offer independent programs for international students, for example these programs in Berlin: HUWISU at Humboldt Universität and FUBiS at Freie Universität. The International Student Center at SDSU assists students with these and other study abroad options, as well.
Scholarship Opportunities
Don't miss out on the numerous study abroad scholarship opportunities available. Visit our scholarships page or the CAL Study Abroad Scholarships page to learn about SDSU scholarships, as well as external scholarships and grants.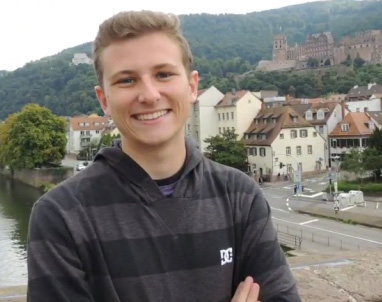 Brandon Einstoss is an applied mathematics and German Studies junior. He studied in Tübingen and Ulm, Germany, for a full academic year.
Internships
The German American Chambers of Commerce are a good resource for information on internships in Germany. Once you have a clear idea in which industry you would like to complete an internship, and for how long, please contact Thomas Dzimian, Director of Career Services at the GACC in New York.
The German Goethe Institut offers a combined language and internship program.
Many other organizations offer internship placement, including: e3 Berlin , ICE, Cultural Vistas, and Go Abroad.
You can research international career opportunities, including domestic positions that require proficiency in German here: Germany-USA Career Center.
View sample cover letters and CVs in German: